How to Shadow a Doctor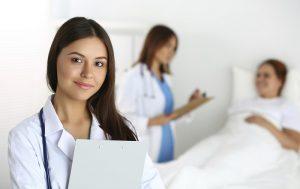 Every premedical student knows that shadowing is an important part of their medical school application. Shadowing is a great way to understand the profession, see what doctors do on a day to day basis and make sure that you enjoy it! However, oftentimes students are confused as to how to get the most out of medical shadowing. But if you follow these two simple tips, you'll be able to maximize your shadowing time and eventually be able to talk about it intelligently on your medical school application as well as during interviews.
Quick Link: Virtual Shadowing
Tip 1: Do some homework!
For shadowing experience to be worthwhile, it makes sense for the student to do a little bit of reading before hand just to understand the terminology used. Often times, especially when shadowing a specialist, there are a lot of acronyms and names that are brought up and thrown around.
Preparing a little beforehand to know what types of procedures or what types of things may come up before that experience happens is important. If its going to be a regular shadowing experience, go home and do so some reading about what you saw that day to get a better understanding of what happened.
Tip 2: Don't be afraid to ask questions
If you want to know how to shadow a doctor, remember that questions are never something to be afraid of! In fact, as you move along in your medical education, questions will be how you learn! Don't expect someone to always force feed you knowledge; you must be proactive in wanting to understand medicine. For example, if you are in a clinic and you have seen a patient with a doctor for 20-30 minutes, keep a mental note of questions that would be interesting to ask afterwards. Questions such as, "Why did you do that?", "Why did you ask that question to the patient?" would be helpful. In addition, I think the key thing to any encounter with any patient is to figure out why the doctor decided to go with a certain plan of action. Each encounter with a patient is split up into two parts: the information gathering part, with questions such as, "Why are you here?", "Where do you have pain?", and the second part is the counseling: "Given what you told me, here is what I think we should do." I think to learn the most you have to really try to understand from the doctor, why did he or she prescribe a certain medication, why did he or she decide on a particular diagnosis over another. I think asking questions around those pieces will provide more insight to what medicine is about and really help you get something out of the experience.