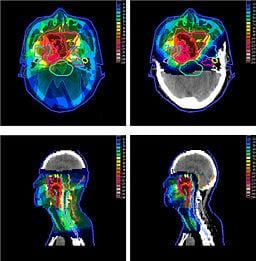 We recently sat down with Dr. Aneja, a former admissions committee member and radiation oncologist. He is one of MedSchoolCoach's lead advisors and provides advising to students looking to gain admission into medical school. We asked him about his life as a radiation oncologist and what students who shadow physicians can learn from them.
Could you please describe a typical day at work in your specialty?
Sure. I'm currently a resident in radiation oncology which is somewhat a unique field in medicine. Because it's a little bit smaller, it's something pre­medical students don't know about and you learn about it in medical school. My typical day of working with a multidisciplinary team of radiation oncologists as well as medical and surgical oncologists includes us seeing patients in clients in clinic who are candidates for radiation therapy. So my typical day involves consultation with them and discussing radiation therapy. The second part of my day involves planning radiation therapy for patients who had previously consented to receive radiation therapy. The planning process includes designing radiation therapy plans as well as approving those plans with our staff members and then the last part of my day is also continually managing the patients currently receiving radiation therapy. I think unlike a lot of other medical fields where patients are seen once every couple of months or every couple of weeks, our patients when receiving radiation therapy are seen every day somewhere between two to five or even nine weeks. It allows you to develop a relationship with them throughout the course of their care.
Do you have students who shadow you sometimes as a radiation oncologist?
Yes, definitely. We have students from all different ages. We have students involved in our high school programme here at Yale who come from the New Haven county who are interested in oncology as a field and we expose them to the ways in which oncology is different than what they have been exposed to just from the current studies. We also have undergraduates who shadow us for a period of time then we have medical students who are rotating and then other residents as well who are involved.
So, when these students shadow you, what are the key things that they should keep in mind? Is there anything in particular that they should be observing or would learn by observing?
Generally when undergraduate students shadow I recommend that they really get an understanding of the way that the clinic flows, the types of patients that we see in an oncology setting and if that is something that they are interested in. I think the other thing that's important for undergraduates to understand is that medicine is a multidisciplinary field so it's not only doctors. There are nurses, nutritionists and many others involved in medicine. It is something that involves a multidisciplinary team so despite your position you still have to work with people. For high school students, it's important for them to see patients and whether or not they enjoy interacting with patients and whether or not they feel like that intellectual processor trying to help patients through solving medical problems. For residents and medical students already in medical school, the important thing is for them to see if this field is something that they are interested in, if they enjoy the clinical flow, if they enjoy the ways in which this field is different than the surgical subspecialties, or feels better, little more diagnostically focused. So things like pathology and radiology would be distinctly different than radiation oncology and that would give them a more patient centred versus radiology and pathology which is centred on diagnostics.