Match Program Outliers
While most programs operate in this way, several programs operate outside of this structure or alongside it:
The Military Match – Applicants apply through ERAS as above, but complete a rank order list and match through a system called the Military Operational Data System, or MODS. Application to programs ends August 31st, and rank lists are due October 15th. Match results are released around December 12th. Notice, there is no involvement of the NRMP.
The Urology Match – Applicants apply through ERAS and rank lists are due in early January. Some programs use NRMP, and some use a urology match program. Match Day is towards the end of January or in early February each year.
Preventive Medicine – Applicants must contact individual programs to determine their process. Some use ERAS, and some use a preventive medicine residency application service. Most use a separate matching service outside the NRMP called the Standardized Acceptance Process, or SAP. However, some use NRMP. The SAP deadline for rank lists is around January 10th. Match Day is around January 20th.
The ERAS Application
Applicants should prepare their ERAS application well before ERAS opens in the beginning of June.
The application consists of:
Your personal and biographical information
CV (curriculum vitae)
Personal Statement
Letters of Recommendation
Medical Student Performance Evaluation (MSPE or "Dean's Letter")
Medical School Transcript
ECFMG Status Report (for international medical graduates only)
A photograph
Your USMLE and/or COMLEX-USA transcripts
Personal and Biographical Information
This is your basic demographic information and identity information. There is also a section for your NRMP match ID, which you will receive when you register for the NRMP Match.
If you have not registered for the NRMP Match, you can add this information later.
Curriculum Vitae
It is helpful to have a comprehensive CV (curriculum vitae) to use as a starting point for your sections and to provide in tandem with your application. Expand on each topic in your CV to write small paragraphs for each section of research, volunteer activity, clinical activities, and employment.
As you fill in the sections of the application, you can choose to use bullet points or paragraphs. If you choose bullet points, they should be concise. If you choose paragraphs, write complete sentences.
Consider that most applicants will have similar activities and you are trying to stand out. We prefer paragraphs to allow the applicant to be more reflective and highlight all the unique aspects of your application for this reason.
The application assumes you have completed your entire medical curriculum (or soon will). Therefore, it is not beneficial to write about rotations unless they were particularly meaningful. If you write about a rotation, pick just one.
Be sure to review the format for both the Activities and Personal Statement sections. You'll also want to check the requirements as you create your list and rank programs.
What to write on your ERAS/residency personal statement?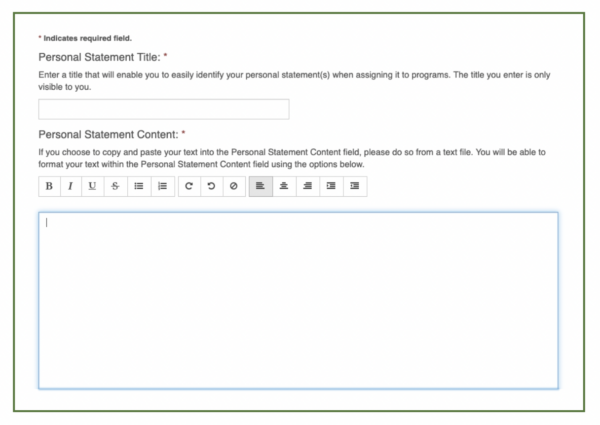 Applicants should start writing their personal statement as far in advance as possible. When you know you want to be in a particular specialty, even if it is halfway through your second year, go ahead and start then. Do not wait until the application season to start your personal statement.
Pro tip: Keep a note on your phone or computer with notes about experiences from medical school you want to include in your personal statement. These notes can help you clarify and remember important points that will eventually go into the official statement.
ERAS allows for a personal statement about 5 pages long, but you should aim for about a page plus one paragraph. Admissions committees don't want to read 5 pages. Describe why you want to pursue your residency of choice and what will make you exceptional at it.
If you will be applying to more than one specialty, you'll need a separate personal statement for each program. You will have the option during submission to assign a specific personal statement to each program.
Writing a strong personal statement starts with structure. A clear format breaks the essay into manageable pieces for the reader to read and for you to write:
Introduction: Open with an anecdote, story, or other creative writing technique to draw the reader in. End this paragraph by introducing your theme(s) to be explored.
Body paragraphs 1 to 3: Explore your theme(s). Focus on traits that will make you a good physician or otherwise prepare you to excel. Do not tell more stories here, and do not rehash your resume or work and activities section. Introduce activities only to provide context to how they've shaped you. Use 2 activities per theme to prove that you possess the skill/trait. Demonstrate that the activities are an expression of yourself, not a simple lesson you learned from an experience.
Content: To make a personal statement truly unique, you need to look beyond your activities. Write about something you are passionate about. It doesn't have to be medicine. Some of the greatest personal statements talk about the lessons the writer learned in other areas of their life, like as a dancer, a baseball player, or a teacher. They connected their learned humility, compassion, perseverance, diligence, patience, and all sorts of characteristics to medicine. Pick something that you're passionate about, and demonstrate how it has woven into aspects of your life. The activity is an expression of the underlying characteristic.
Conclusion: Wrap it up on a catchy or more emotional note. If the introduction serves to draw the reader in, then the conclusion should leave a lasting impression on the reader.
A note on using AI in your writing: ChatGPT and similar tools can be helpful during the editing process for your ERAS personal statement. However, don't let AI replace the unique stories that make you an attractive candidate. Don't be tempted to let AI do your writing for you — use it only to tweak clunky sentences and improve the overall readability of your statement.
Collect Letters of Recommendation
A total of 2-3 Letters of Recommendation (LORs) satisfy most programs' requirements. Do not wait until right before the application process to request letters.
If you connect with an attending and perform well, ask them if they would be willing to write a letter about 75% of the way through the rotation. Then, ask them for the letter at the end of the rotation.
Collect your letters right away through a 3rd party service like Interfolio so you can store them ahead of time and upload them when the application process opens.
To use ERAS to request letters, you'll need to wait until the service opens in June. The applicant has to enter the LOR writer's name and information and may then generate a letter request form to be sent to the letter writer.
After this step, the applicant must confirm the letter of recommendation.
Once the letter is received in ERAS, then they can assign it to the program of choice.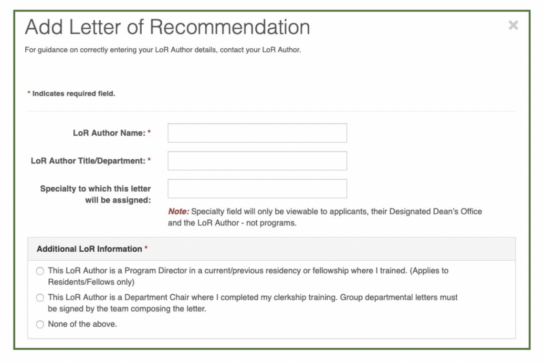 For more information, the Association of American Medical Colleges has details about the format of the letter, and this UCSF has great information on what to include in the letter.
Gather a Dean's Letter/Medical Student Performance Evaluation (MSPE)
To begin the Dean's letter, you'll need to start by talking to your Dean. Each school has different policies on how this is conducted. The school will notify the applicant and generate the letter for you to upload to ERAS.
Most schools will automate this with set deadlines from the Dean. Your school will likely require you to attend a meeting before writing the Dean's Letter/MSPE, where they will require you to present 3 noteworthy characteristics.
Here are the exact instructions for the Dean's Letter/MSPE Instructions, as provided by AAMC:
Provide a maximum of three characteristics highlighting the most salient noteworthy characteristics of the student.
This section should be presented as a dot bulleted list (DO NOT NUMBER).

Each characteristic should be described in 2 sentences or less.

Information about any significant challenges or hardships encountered by the student during medical school may be included.

This section is written in third person.

The word count is 35-40 per bullet.
Medical School Transcript
The medical school transcript must be uploaded to ERAS directly from the applicant's Designated Dean's Office of their medical school.
ECFMG Status Report (IMGs only)
This report is for international medical graduates (IMGs) only. The Educational Commission for Foreign Medical Graduates (ECFMG) Status Report verifies the ECFMG Certification status. It contains the following information:
USMLE/ECFMG Identification Number
Applicant name
Birth date
ECFMG-certified: (Yes or No)
Certificate issue date
Exams passed for ECFMG Certification
CSA valid through date, if applicable
Medical school of graduation
Degree year
Medical Education Credential Status (complete or incomplete)
Explanatory notes (if applicable)
Optional Additions
You have the option to include a photograph with your application. The photo should be 2.5 x 3.5 inches, with a 150 dpi resolution, and file size of 150KB — or in digital terms, 375 pixels x 525 pixels.
We recommend including a photo. It is the first visual impression the programs will have of you, so make sure you convey the appropriate aesthetic in your photo.
You also may upload your USMLE and COMLEX Transcripts with your application. Including your transcripts is a great way to stand out if you had above average scores, but if you didn't do as well as you hoped, don't include them.
Get a free copy of our Complete Guide to Residency Applications 
ERAS Supplemental Applications
The main ERAS application consists of the personal statement and the activities, but there are also now supplemental applications for residency. In 2023/24, there are now 16 specialties that utilize the ERAS supplemental application.
These questions are very short. They are utilized to help applicants share more information about themselves with programs that they have shown interest in.