Affirmative action, a policy long held in high regard for its potential to bridge historical racial and ethnic disparities in higher education, has been a topic of intense debate in medical school admissions for years. Race-conscious policies have played a significant role in shaping the make-up of medical schools, aiming to produce a diverse physician workforce capable of delivering culturally sensitive healthcare. At the same time, the policies are considered by some to be restrictive against over-represented candidates, including over-represented minority groups, who might be overlooked despite being great applicants.
The Supreme Court decision in June of 2023 upended this status quo, striking down race-conscious admissions policies and setting the stage for a fundamental reevaluation of diversity initiatives in medical education. The lawsuits that led to this decision were brought by Students for Fair Admissions, a group headed by Edward Blum, a conservative legal strategist. These cases contended that admissions policies at Harvard and the University of North Carolina unlawfully discriminated against Asian American applicants, among others​.
This article will explore the implications of this landmark decision specifically on medical schools, tracing the evolution of affirmative action, examining the current state of affairs, and contemplating its future. Through this post, we aim to shed light on how this ruling could redefine medical education and healthcare in the United States.
Affirmative Action: It's History in College and Medical School Admissions
Affirmative action, a term first introduced by President Kennedy in 1961, aimed to counteract racial discrimination by considering race as one factor in a holistic evaluation of an applicant's qualifications. This has been true for both colleges and medical schools. In the context of higher education, affirmative action refers to admission policies aimed at increasing the number of Black, Hispanic, and other minority students on campus. However, the Supreme Court's recent 6-3 ruling has struck down race-conscious policies in college admissions, ending decades of precedent.
For medical schools, affirmative action policies were upheld by three major Supreme Court cases: Regents of the University of California v. Bakke (1978), Grutter v. Bollinger (2003), and Fisher v. University of Texas at Austin (2012-2013). These cases, while nuanced, upheld the right of schools to consider race as one of many factors in their admissions processes to enhance the diversity of their student bodies.
Acceptance Percentage by Race in 2022/2023
Table A-12 published by the AAMC provides a detailed breakdown of medical school applicants, first-time applicants, acceptees, and matriculants, segmented by race/ethnicity for a specified range of years. This information allows for a comparison of how acceptance rates vary between different racial and ethnic groups over time. As the table shows, even despite Affirmative Action, the percentage of Black or African American students accepted remains lower than most other ethnic groups.
| | | | |
| --- | --- | --- | --- |
| | Applicants | Acceptees | Acceptance Percentage |
| American Indian or Alaska Native | 94 | 49 | 52% |
| Multiple Race/Ethnicity | 6,086 | 2,841 | 47% |
| Hispanic, Latino, or of Spanish Origin | 3,257 | 1,517 | 47% |
| Asian | 12,736 | 5,802 | 46% |
| Native Hawaiian or Other Pacific Islander | 52 | 23 | 44% |
| White | 22,917 | 10,077 | 44% |
| Black or African American | 4,924 | 1,924 | 39% |
| Unknown Race/Ethnicity | 1,777 | 679 | 38% |
| Other | 1,386 | 516 | 37% |
| Non-U.S. Citizen and Non-Permanent Resident | 1,959 | 382 | 19% |
| Overall | 55,188 | 23,810 | 43% |
The Importance of Diversity in Training Future Physicians
The diversity of a medical school's student body is not just a matter of fairness or social justice—it also carries significant implications for the quality and inclusivity of healthcare. One of the primary reasons diversity is so crucial in medicine is that it has been shown to enhance the overall educational experience. By fostering an environment where individuals from various racial, ethnic, and socioeconomic backgrounds learn together, medical schools can provide students with exposure to a broad spectrum of perspectives and experiences. This can lead to a richer, more nuanced understanding of health and disease, which is crucial in a field that deals with patients from all walks of life.
Moreover, a diverse medical workforce can better serve a diverse patient population. Physicians from underrepresented minority backgrounds are more likely to work in underserved areas and provide care to minority patients, helping to mitigate health disparities that persist in many communities. They are often more attuned to the cultural nuances, health beliefs, and practices of the populations they serve, enabling them to communicate more effectively and build stronger patient-doctor relationships. This can lead to improved patient satisfaction, better adherence to treatment plans, and ultimately, better health outcomes.
Additionally, diverse medical teams can foster innovation by bringing together a wide array of viewpoints and ideas. Studies have shown that diverse teams often outperform homogenous ones in problem-solving tasks because they approach problems from multiple angles. In the context of medicine, this diversity of thought can lead to new research questions, novel approaches to patient care, and innovations in medical technology or procedures.
Lastly, a diverse medical profession is a more equitable one. Affirmative action policies were originally implemented in response to the historical exclusion of minority groups from higher education and certain professions. By working to ensure that individuals from all backgrounds have the opportunity to pursue a career in medicine, medical schools can help rectify these past injustices and contribute to a more equitable society.
There is little doubt that diversity in medicine enhances the educational experience, improves patient care, fosters innovation, and promotes equity. Therefore, the potential impact of the recent Supreme Court decision on medical school diversity is an issue of real importance.
What Does the Supreme Court Decision Mean for Underrepresented Applicants?
The Supreme Court decision will likely impact medical school admissions significantly. The move could potentially reduce the representation of underrepresented minority groups, which could further exacerbate downstream problems in healthcare. In fact, the AAMC nearly immediately responded that it was "Deeply Disappointed by SCOTUS Decision on Race-Conscious Admissions".


Even when Affirmative Action was prevalent in admissions, medical school struggled to maintain levels of diversity. Without affirmative action, there likely will be a cascading impact on the make up of incoming classes. Top public college systems, like the University of California and the University of Michigan, have already stated that other measures to improve diversity have not been as effective, resulting in fewer minority students on campuses. The AAMC's statement included saying that "[it's members] will work together to adapt following today's court decision without compromising these goals. The health of everyone depends on it."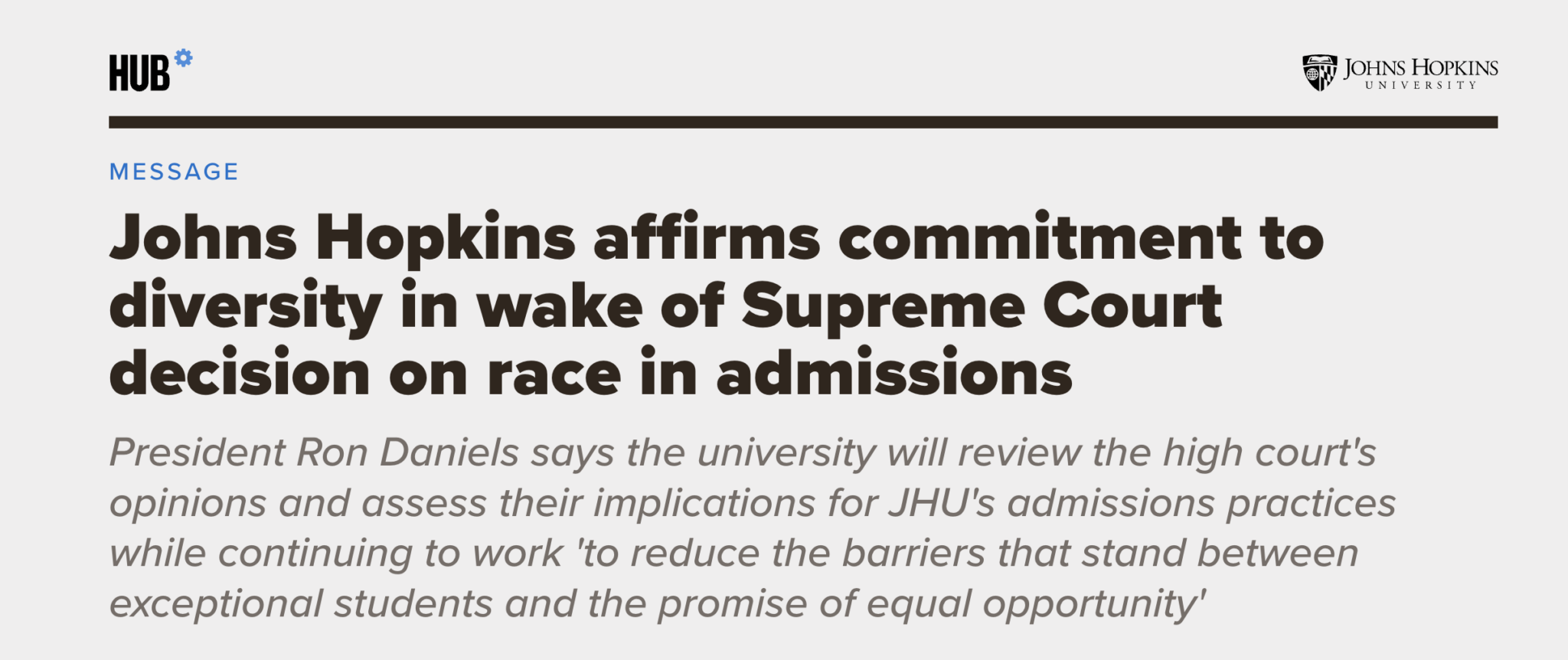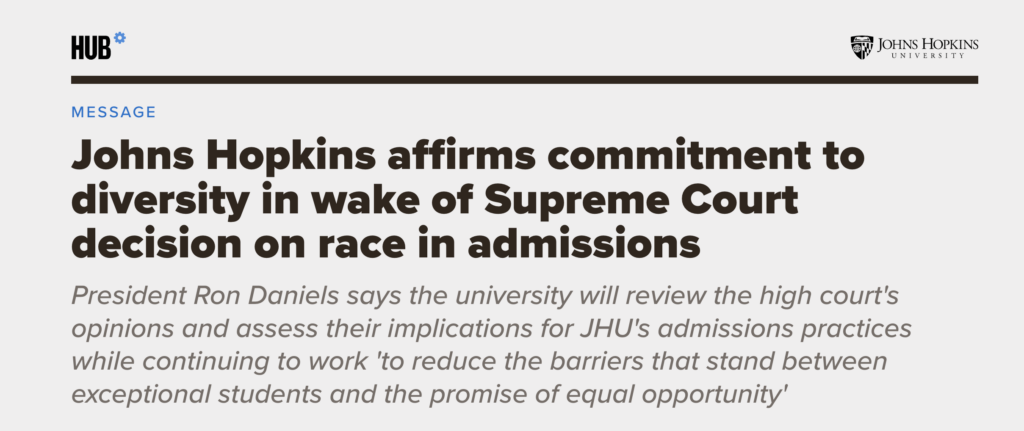 What Does the Supreme Court Decision Mean for Overrepresented Applicants?
For those who are typically overrepresented in medicine, the decision may potentially open up more opportunities at more schools. Students of over-represented minorities, specifically Asians and South Asians, are often held to a higher standard when it comes to GPA and MCAT. In the court case heard by the Supreme Court, one of the accusations made by Students for Fair Admissions was that Harvard University consistently ranked Asians as "boring applicants". However, it is difficult to definitively say how this ruling will affect the acceptance rates of Asian and South Asian students. The precise impact of this decision on future admissions outcomes for these groups will depend on how universities adjust their admissions policies in response to the ruling and the specific characteristics of the applicant pools. It is also important to remember that there is a large amount of variation among colleges in terms of their selectivity, their applicant pools, and the factors they consider in admissions.
All that being said, if previous policy shifts, such as what occurred at the University of California in 1996, are any indication, there could be more incoming Asian and South Asian students in medical school classes.
Typically, medical schools try to provide a holistic approach to applications, reviewing not just grades and test scores but extracurricular activities, leadership and more. Race has traditionally been one among many factors, but not the sole determinant.